Upcoming Workshops
INTRO to Imago Relationship Therapy
based on Getting the Love You Want by Dr. Harville Hendrix
Sunday, January 29 ~ 2-4:30 pm
Crazy Wisdom Bookstore ~ 114 S. Main Street in Ann Arbor
FREE
The Imago approach teaches people a new way to share and listen to each other's thoughts and feelings by offering a way to:
discover what's beneath your longstanding issues and what you can do differently
enhance your ability to communicate well with your partner
change your reactive, ineffectual behaviors into a force for compassion, healing, and growth
Carole will demonstrate an approach to talking and listening that helps couples really hear and understand each other, possibly like never before! All kinds of couples and singles welcome!
All participation is by choice and questions and dialogue are welcome.

While free please call or email to register.
___________________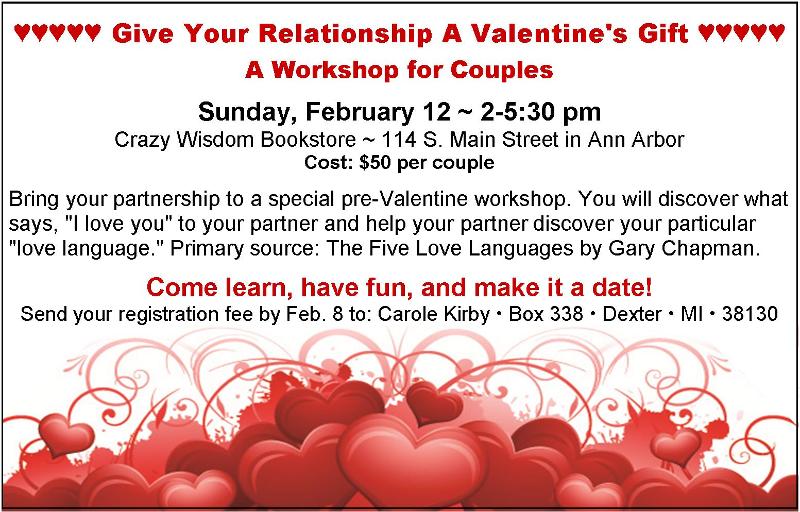 Click on the image to be directed to my website for more information.
___________________
Alone Together
Why We Expect More from Technology and Less From Each Other
Sunday, March 4 ~ 2-4:30 pm
Crazy Wisdom Bookstore ~ 114 S. Main Street in Ann Arbor
FREE
Digital technology is a blessing in so many ways, yet it has its upside and downside. Carole will share some insights and information from Sherry Turkel's book, Alone Together. Come participate in a discussion about her message and concerns. Lets use digital technology with more care, consciousness, and balance.
While free please call or email to register.
___________________
Discover a New Way to Love
A Weekend Workshop for Couples in Ann Arbor
March 23 - 25, 2012 or May 18 - 20, 2012
Fri. 7pm-10:30 pm, Sat. 8:30 am-8 pm, Sun. 8:30 am-7 pm
Give your relationship a gift this spring... Whether you've been together 6 months, 5, 10, or 30 years, this weekend will offer you new tools and understanding that can help you co-create a closer, stronger coupleship. This workshop is based on the best selling book, Getting the Love You Want, by Dr. Harville Hendrix, founder of Imago relationship therapy.
Check website for more information or call 734.424.2797.
___________________
Boundaries of the Self
Learn ways to strengthen & regulate your boundaries
Sunday, April 18 ~ 4:30 pm
Crazy Wisdom Bookstore ~ 114 S. Main Street in Ann Arbor
FREE
Our boundary is the invisible protective screen that develops around the self to hold our developing self intact as children. The boundaries provide a sense of security for children and protect their innocence. Later our boundaries determine our sense of self-esteem, our self-confidence, our sense of control over our lives and our personal freedom. With clearly defined boundaries, we know our own thoughts and feelings and, in turn, are able to interpret and regulate our interactions with our world. Boundaries can become blurred through boundary invasion or boundary neglect.
___________________
Click here to register for any of these workshops or call 734.424.2797.